Business organizing services help you create a productive work environment
where
you have easy access to the information you need without being
OVERWHELMED BY CLUTTER.
Office clutter represents postponed decisions®. Reality check: companies don't use 80% of what they store—both physical and digital. All of this excess impedes workplace productivity by making it harder to find what you need, when you need it. In short, clutter destroys productivity.
What Are Professional Business Organizing Services?
Business and commercial organizing services focus on transforming your office from a place that feels overwhelming to a space of optimized productivity. We help you declutter your physical and digital spaces, streamline processes and communication, and establish healthier work/life balance. This begins by educating and encouraging employees as they decide what to toss and how to store what they keep. Then we help you create systems for what to do with each piece of paper that comes into your office—whether a bill or a business card—so you never get buried in clutter again.
Totally Organized founder Traci Olivares is a Certified Productive Environment Specialist (CPES) through the Productive Environment Institute. Using their proven method, our commercial organizing services help you establish office SYSTEMS—Saving You Space, Time, Energy, and Money. This will create a productive environment, which PEI founder Barbara Hemphill defines as "an intentional setting where you can accomplish your work and enjoy your life."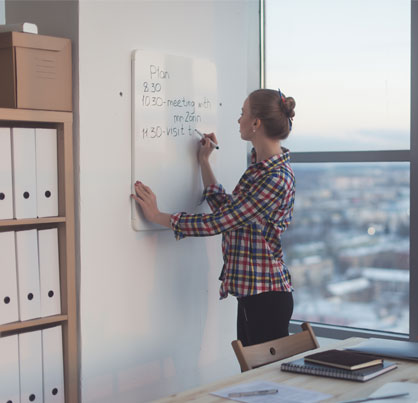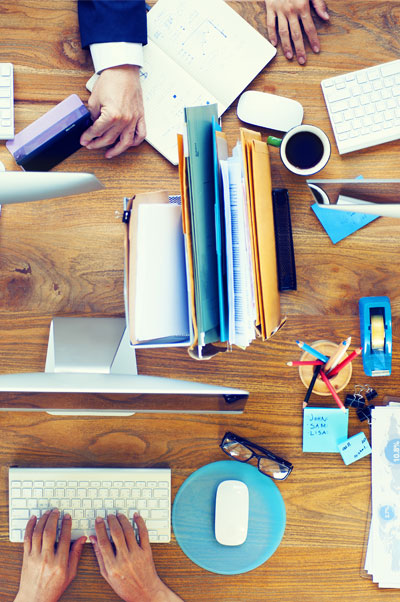 Our Organizing Services
Business organizing services go beyond decluttering paper-filled desks. Our methods span the full organizational spectrum, targeting increased productivity, efficient workflow, seamless communication, reduced stress, lower costs, and higher profits. Here is what business and commercial organizing services can help you do:
Manage Your Space
Individual desks/workspaces

Office organization tools

Filing systems and document retrieval methods

Routine paperwork elimination
Manage Your Information
Scheduling

Email

Digital information storage and retrieval

Processes for purging excess information
Manage Your Time
Time management best practices

Workflow/day-to-day operations

Communication

Management processes

Personnel organization
Clutter creates a stressful, inefficient work environment. Professional organizing specialists introduce you and your staff members to better systems for space organization, filing, time management, daily office procedures, and workflow. When you invest in business organization, you are investing in your team's efficiency and morale.
Our business organizing services take you from overwhelmed to optimized in three main steps:

Decluttering your office begins with designing customized solutions that work. First, we assess the current state of disorganization to provide clarity on the needed solutions. Then we equip you with the tools and processes you need to tackle the clutter.

Clutter is created when we put off decision making. We help you evaluate every category of information in your office—physical and digital—to determine whether it is an action item that needs a plan or a reference material that needs to be filed. For all types of information management, you will determine what should be kept, in what format, and for how long; you will also establish procedures clarifying who is responsible for filing it (and later purging it, if relevant), who has access to it, where it can be located, and how it is backed up in the event of disaster.

Once your office has been transformed with these new organizational methods, we teach you how to stick with it. Our organizers work with you to develop the habits, time management skills, and communication methods you need to maintain your new routines. This includes regular information management, such as destroying old files when you no longer need them so you never have to deal with clutter build-up again.
Is Your Office Ready to Get Totally Organized?
Business organizing services help you tame the office clutter that is holding your business back. With better organization of your space, information systems, and time, you and your employee swill be less stressed and more productive. Reach out to our team of trained specialists today for a free consultation! We offer personalized solutions catered to your goals and needs.